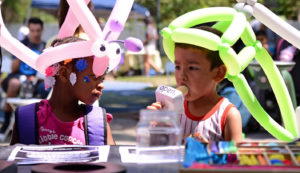 Our Power of the Arts Festivals are popular events where low-income children, including foster youth and children facing homelessness whom we serve, get the chance to spend a few hours enjoying all kinds of arts activities, like Open Mic Talent Shows where every performer picks a prize.
They create live art and a variety of fun arts projects, play drums, meet their favorite characters, eat delicious food and so much more.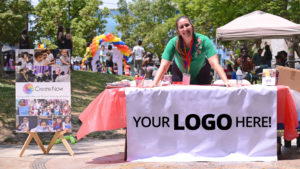 Click here to see a video about our 2018 Power of the Arts Festival. This year, we expect 400 children and youth to enjoy the festivities. This includes our DTLA South Park neighbors, many of whom live in luxury condos located close to our facility, just a few blocks from STAPLES and LA Live.
Sponsorships start as low as $500. Even at that level, benefits include access to our VIP Luncheon, promotional and marketing opportunities and free tickets to Walt Disney Concert Hall and the Hollywood Bowl.
Click here to download our Sponsorship Deck. Please contact Create Now Founder and CEO Jill Gurr for more information. We look forward to seeing you at this amazing event that will bring you and your loved ones great joy and inspiration, especially knowing that you've made a difference in hundreds of children's lives.