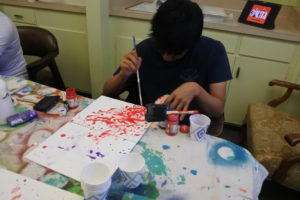 Runaway teens can find refuge at Angel's Flight in the Ramparts district. Most are fleeing from abusive families. This shelter also accepts youth ages 10 through 17 who have been thrown out of their homes, and those not allowed to live in adult shelters with their parents
Since July 8, Lola Katelynne Kulakowsi has volunteered to teach a group of eight kids about famous artists. Lola starts each class with a presentation about their backgrounds and style of art. Then these teens have the chance to experiment with the materials Create Now purchases thanks to your donations.
On Labor Day, these young people learned about Jackson Pollack and had the chance to splatter colorful paint on canvases. One girl stated, "She teaches us about artists and what they're passionate about, and the vision for their art."
Another teen exclaimed, "I like everything about this class. Just her coming every week and showing us how to paint and stuff is preparing us because it be hard."
Create Now celebrated their accomplishments throughout the summer by giving all the kids gift bag with all kinds of goodies they loved.
We can't wait to see what creativity comes out of their next arts projects!