Our partner Union Rescue Mission on Skid Row is a temporary shelter for 150-180 children. Facing homelessness is a struggle for youth. They often feel anxious and stressed when living under such difficult circumstances.
Studies reveal these kids have higher levels of emotional and behavioral problems, increased risk of serious health issues, and they're more likely to repeat a grade, be expelled, or drop out of school. Since March 5th, our volunteer artist Britt Harrison has been teaching a popular arts and crafts workshop to a number of these youngsters from ages 3-16.
Every week, the kids look forward to creating art with Britt. They recently created a sun by decorating cutouts of their hands, and miniature aquariums from tin candy boxes, colored paper, beads, paint, glue and other materials that your donations help us purchase.
Kelly Kunf, the Family Emergency Services Chaplain at URM stated, " Create Now's arts program provides our kids with a creative outlet in an environment that is far from creative. Kids facing homelessness suffer from not having safe avenues and methods to process their own journey through homelessness. Create Now's arts programs provides such an avenue filled with legit artists that personally walk them through this very important experience."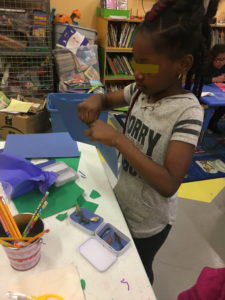 Britt exclaimed, "Starting this program has been really rewarding, but it's come with its challenges. Teaching a younger group of kids was much more hectic than I expected, but seeing them light up when I come down the hall and eagerly ask what we're working on today really warms my heart. I'm happy to give them a space to have fun, be creative and engage when they are ready."
The youth loved making miniature aquariums from candy tins and decorations – made possible thanks to your contributions. One dad said, "My daughter keeps asking me over and over, 'When's the next class?"