Create Now implements a wide variety of arts programs in music, writing, visual arts, digital media, culinary arts, performing arts and fashion. While our organization has signature classes in most of the arts disciplines, we work with artists and funders to customize programs that meet their goals.
In addition, each year we organize outings for thousands of the neediest youth in Southern California through Cultural Journeys. These field trips take many forms, such as concerts, plays, circuses, museums, studio visits, even popular sporting events.
We provide the materials, resources and ongoing support for our arts programs. Schedules vary from one-hour events to workshops from 12-16 weeks, and year-long classes. All programs are tailored to meet the needs of the kids, plus our volunteers and youth partner agencies. Create Now's workshops culminate with a party, recognizing each student's achievement. Students receive gifts, like very unique Certificates of Completion and other lasting sourvenirs to remind them about their accomplishments.
Here are summaries of our programs and services:
Community Arts Projects – Our CAP (Community Arts Projects) initiative helps to cap violence in underserved communtities. These events can take several forms, depending on funding options. Create a Mural can be set up at recreation centers, parks, schools and shopping malls. Our Power of the Arts Festivals enable families with kids of all ages to enjoy an Open Mic Talent Show where every participant wins a prize, with live art, drum circles, free food and drinks, superheroes and princesses, face painting, balloon art, a toddler station, free backpacks with school supplies, and more!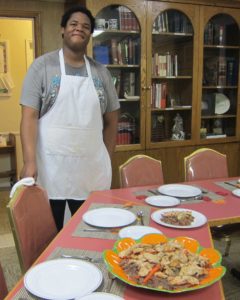 Culinary Arts – Students learn about nutrition, buying produce, safety tips, cooking techniques, chopping skills, soups, stocks, sauces and presentation. They engage in fun activities, like creating dishes from a "Mystery Basket" in a competition, and putting together a Thanksgiving dinner feast. Students take tests to get their food handler licenses. This program focuses on 18-24 year-olds who have emancipated from DCFS. It introduces these young adults to the hospitality industry and the many jobs available to help them achieve their dreams.
Cultural Journeys – At-risk and high-risk youth get to visit Walt Disney Concert Hall, the Hollywood Bowl, Cirque du Soleil, LACMA, the Grammy Museum, and many more fantastic venues! For most, it's their first-time attending a live performance. For youth with PTSD, these experiences can be transformational. Some of the young people Create Now serves are hesitant to venture out, but after participating in our Cultural Journeys, they're excited to try it again! Afterwards, they send us thank you cards and letters for our ticket donors, which also shows children how to express their gratitude.
Digital Media – Students learn Photography, which enables them to explore their world through the lens of a camera. They're given tools that enable them to use their creativity to personalize their visions. Youth are hungry to learn Film and Video Production, Animation, Special FX and Graphic Design. Editing takes place at the professional bay located at our facility in DTLA. Our Digital Media Lab includes a 360° full-dome theater where students create short videos and artwork, which are then projected in the cutting-edge Votex immersive dome located near DTLA. Students also learn about VR/AR and other advanced technologies.
Fashion – Kids are given a variety of pre-owned clothing, new fabrics and fabulous decorations. They use their imaginations to design wild outfits based on a theme, or whatever style they want. Students work as a team with our professional designers to assist with casting models and preparing for a Fashion Show for their families, friends and others in the community. Students also learn about the fashion industry, including the importance of branding. Jewelry design is very popular with our youth. They make gorgeous necklaces, earrings and bracelets with high-quality beads – for themselves and to give as gifts for their loved ones.
Literary Arts – Our popular Inspiration to Publication classes enable students to share their stories, poems, articles and graphic novelettes, which are bound and printed as books they can share with friends and family, and always treasure. Youth work as a team to design the cover and layout of their books. Screenwriting workshops teach theme, story, plot, character development, dialogue and conflict. Staged readings and video shoots are sometimes organized. Our classes include Hip-Hop Songwriting, Poetry, Journalism and Spoken Word.
Music – Students learn Guitar and Keyboards. Classes take place at the shelters, group homes and schools in our network. Youth get to record their songs at our studio. Our Create Audio workshop teaches youth how to turn their original music into demos, plus ways to break into the industry. Create Audio especially targets 18-24 year-olds who have emancipated from DCFS. It teaches them basic and advanced techniques to help develop their songs. Industry pros visit to give students career guidance. Our early education classes teach Pre-K to 4th graders "steady beat," which accelerates reading and language fluency. 
Performance – Many kids want to learn Acting, Comedy, Dance, Theater/Improv, Singing and Magic. They discover their gifts and build skills as they make new friends. As with all of Create Now's programs, negative behaviors like bullying are alleviated, especially with Create a Show where students come together as a team to put on a performance for their families, teachers and peers using their newly-developed abilities. Create Now's guitar and keyboard students are also invited to participate. These youth can perform for the public at our annual Power of the Arts Festival. 
Visual Arts – Kids create collages, draw, paint and make 3D sculpture. Through Create a Mural, students work together to design and paint wall art that can be permanently displayed or placed on a portable platform. Create a City or Playground is a STEAM class where students bring recyclable materials from home like boxes and plastic bottles that are used to build ideal environments. Youth learn how to collaborate while discovering how the arts intersect with the difficulties society faces. This program exposes young people to career options in urban planning, alternative energy and sustainabile water systems.
Create Now also frequently sends out notices to our youth partner agencies about scholarships, free materials, internships, and other resources and opportunities in the community. Contact info@createnow.org for more information.
Create Now recruits and trains our volunteer mentors. We help them to develop curricula that follow California Common Core State Standards. Create Now also hires professional teaching artists.
Job preparation and career development is emphasized throughout all of our programs. Older youth receive training about how to break in, and pathways to attain their goals.
Create Now's programs build youths' confidence and self-esteem. while assisting them to heal from past challenges.  We motivate them to stay in school, and to become positive citizens who give back to their community.