While all of us are staying safe at home, thousands of youth in Southern California have no homes to stay in, nor families to comfort them during the Covid-19 pandemic. They're forced to live in shelters, group homes, detention centers and transitional living facilities. Not only are these youngsters dealing with the stress, anxiety and fear that many people are experiencing right now, they also have to cope with trauma related to abuse, neglect, abandonment and homelessness.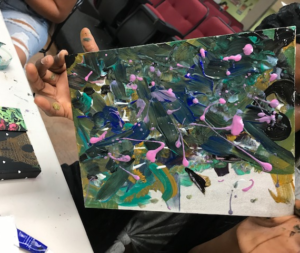 Thanks to our wonderful volunteers and your support, Create Now is currently providing these kids with interactive arts classes through Zoom. Leah Devora is teaching visual arts to teenage foster girls living at Crittenton Services in Orange County, while Cina McKenna is doing hip-hop and other dances with 18-24 year-old young adults facing homelessness at A Safe Place for Youth (SPY) in Venice. Kymberly Stewart is singing songs with toddlers at the Penny Lane transitional-housing center in Pacoima.
Create Now really needs your help. Not only does it take a lot of time to organize the classes, but our artists need to be trained. We also ship arts supplies to the youth, so please donate!
Every dollar makes a difference. You can click here to contribute online or send money through PayPal: info@createnow.org (select "Families and Friends to avoid fees).
On behalf of the children Create Now serves, thanks for your support. STAY SAFE!